Catalog Design
Designing Advertising Catalog and Brochure
Designing catalogs and advertising brochures is one of the most important elements you need for marketing and selling your products and services. Recognizing its significance, the artistic team at 5thColour art group offers high-quality catalog designs with attractive layouts. These catalogs not only showcase your products but also serve as a valuable source of information for customers, ultimately enhancing your sales.
Catalog and brochure design are crucial factors in advertising and marketing products and services for companies. In catalog, brochure, and advertising design, apart from visual appeal, it should effectively convey the information that the company wants to present to its audience.
Designing catalogs and advertising brochures requires attention to small details that, if overlooked, may prevent us from achieving desired results. Here are some points to consider in catalog and brochure design:
Utilize high-quality and optimized images that can effectively convey your ideas and objectives.
Use harmonious and attention-grabbing colors that appeal to the audience.
Choose an appropriate layout that enhances visibility for the audience.
Employ concise and captivating text that can attract the attention of the audience.
Consider the practical applications of catalogs and advertising brochures. For example, if the catalog is for digital products, use images and concise descriptions that encourage the audience to make a purchase.
Given the importance of catalog and brochure design, it is advisable to entrust their design to a specialized and professional team to ensure they are presented in the best possible way.
Additionally, another type of catalog and brochure design is digital design. In this form of design, catalogs or brochures are created and distributed electronically, reaching internet users. This method is highly popular due to its wider accessibility to users and the ease of updating and editing content.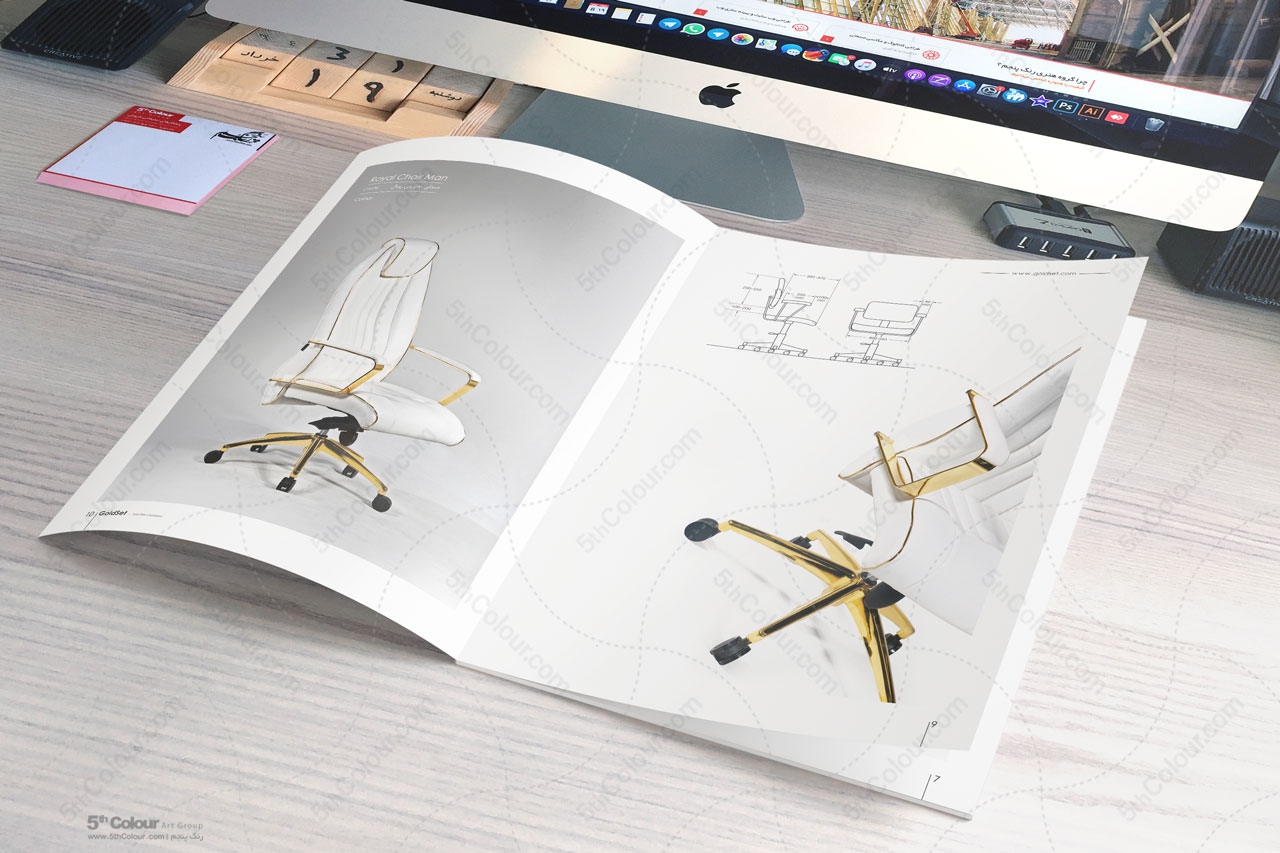 Designing a catalog is usually presented in two forms:
As a means of introducing a single product or service from multiple offerings (single-product).
As a means of introducing multiple products or services with different functionalities (multi-product).
A good catalog design should include the following:
A summary introduction of the name and performance of the manufacturing factory, as well as identifying activities at the beginning of the catalog.
Introducing production ratings and rankings (existing ISO standards).
Introducing the latest and best products and services.
Providing accurate information and guidance to the audience by including technical specifications of the services offered, their special features, and how they differ from similar products, whether in the factory's past productions or in the current market.
Including images and written texts in the catalog makes decision-making and selection easier for the audience, speeding up their selection and decision-making process.
Catalogs provide a comparative view, allowing the audience to choose and purchase one product among several introduced products based on their quality, durability, and most importantly, cost-effectiveness.
By including addresses, phone numbers, and website addresses, catalogs provide further familiarity for the audience.
Some characteristics of catalog design include:
Portability and the ability to be read in leisure time.
Conciseness and avoiding excessive explanations in the catalog.
Establishing direct communication with the audience.
Combining images with text in the catalog for better audience understanding.
Catalog design goes beyond posters and leaflets in terms of conveying information and the mentioned elements.
The goal of catalog design is to provide necessary and essential information to the audience, which, in addition to introducing products and services, serves the purpose of advertising and decision-making.
Catalogs and brochures have a significant advertising impact and influence in the audience's choice and preference changes.
Catalogs contain information such as size, color, weight, price, maintenance methods, and the necessary features desired by the audience, providing answers to their questions.
Types of catalog design formats include:
A4: The standard size for catalogs, measuring 21 × 29.7 centimeters.
A5: This format measures 14.8 × 21 centimeters and is commonly used for small catalogs and showcasing small products.
Square: This format is square-shaped, with sizes ranging from 15 × 15 to 21 × 21 centimeters.
DL: This format measures 10.5 × 21 centimeters and is used for vertical product displays due to its larger size.
Landscape: Landscape catalogs are designed with a large size that provides the most display space for images and graphic content.
Poster: This format is large and is used for display and information dissemination in public places.
Each catalog format can be ordered from different printing houses based on the type of content and design.
Designing advertising and industrial brochures: A brochure or advertising folder is a promotional material prepared to attract audiences and advertise a specific business or product. This material is usually designed as a single sheet with varying sizes, containing various information and images about the specific business or product.
A leaflet is one of the types of advertising brochures, which is usually smaller in size compared to other types of brochures. It is mostly used for advertising products such as cosmetics, clothing, jewelry, and more. In a leaflet, in addition to general product information and images, details about how to use the product and its advantages are usually explained in more detail. Attractive designs and colors are also used to capture the attention of the audience.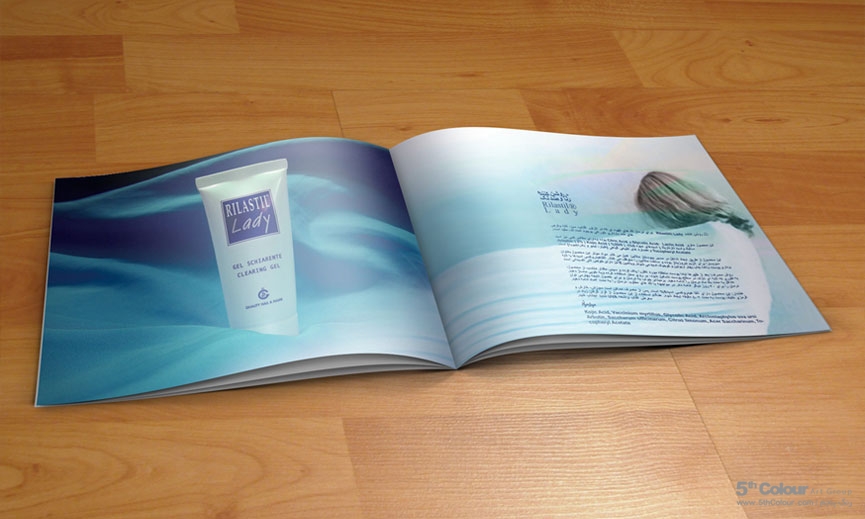 Catalog design is one of the key advertising factors for your business and plays a vital role in communicating with customers. In our artistic group, "5thColour" we have the experience and knowledge in catalog design to provide you with high-quality and professional services. Our design team is here to understand your needs and create the best catalog for you. Using professional tools and unique and attractive designs, your catalog will become one of your most important advertising tools. Contact us and entrust your catalog design to 5th Color art group.
Designing Advertising Catalog:
1. Designing catalog layout considering your content and products/services.
2. Using high-quality images and graphics to attract attention and enhance visual appeal.
3. Incorporating company information, history, products/services offered, and contact details in the catalog.
4. Utilizing appropriate colors and fonts in line with your brand identity.
5. Creating engaging page designs to ensure seamless and comprehensible information flow.

Designing Industrial Catalog:
1. Displaying clear and detailed images of industrial products.
2. Describing technical details and specifications of the industrial products in a user-friendly manner.
3. Presenting technical charts and diagrams for precise representation of industrial products.
4. Utilizing effective layouts to showcase a diverse range of industrial products.

Designing Brochure:
1. Designing brochure layout according to your advertising objectives.
2. Using captivating photos and images to grab the audience's attention.
3. Concisely displaying key information and offerings of your services/products.
4. Using impactful language and appropriate messaging to engage the audience.
5. Selecting colors and fonts that align with your brand identity.

For each of these services, you can get in touch with professional designers and graphic artists of 5th Colour Art Group to create unique and appealing designs tailored to your specific needs and budget.